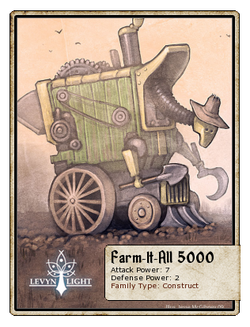 These utilitarian machines trundle back and forth across barren fields, assuredly transforming them into fertile plots of land for new crops to be sown.
First Appearance: Chapter 1
Attack Power: 7
Defense Power: 2
Critical Chance: 1%
10% chance of Rumble (+3 Attack)
Farm-It-All 5000 rumbles right over you!
8% chance of Fertile Ground (-4 Attack)
Farm-It-All 5000 spots a nice fertile looking patch of dirt and rushes away to plant a seed in it.
Loot:

Basic Energy
Gold:
5 - 9
Energy Preference: None
Badges:


1

10

100

250