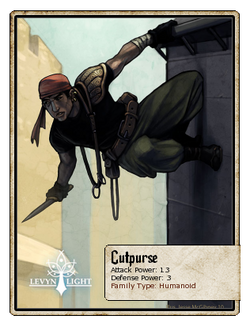 Cutpurses abound in the larger faction cities, using their rusty knives to empty out honest citizens' coin pouches. The Cutpurses used to be fairly respectable, as thieves go, operating like a small guild, but with the onset of the Mythmonger's reign, they found a lucrative side business selling other people's information to the occupying forces. Since then, no one dares speak freely in public, for fear of spies in between the market stalls.
Location(s): Ivory City, Kurston
First Appearance: Chapter 2
Attack Power: 13
Defense Power: 3
Critical Chance: 5%
20% Chance of Catfall (+2 Defense)
You never even hear the Cutpurse coming as he drops down behind you!
Loot:

Pearl
Gold:
13 - 15
Energy Preference: None
Badges:


1

10

100

250