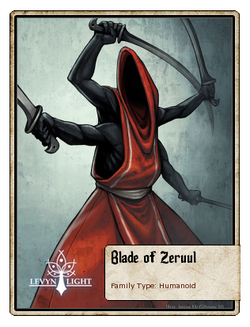 Like a cold wind that strikes in the middle of a summer's day, the Blades of Zeruul run shivers down the spine of even casual passersby. Obliterators of living matter, they need no cover of darkness to create nightmares. Once they sniff out the scent of a Seeker, they will pursue them relentlessly, until they destroy every trace of their existence, every traveler who was with them, and anyone else who happens to get in their way.
Location(s): Various (more details)
First Appearance: Chapter 5
Attack Power: Variable
Defense Power: Variable
Critical Chance: 1%
10% Chance of Multi-slash (+4 Attack)
The Blade of Zeruul swings its many arms, raining a hail of blades down on you!
60% Chance of Quadruple Stab (+2 Attack)
The Blade of Zeruul thrusts all four swords at you at once!
Loot: Various (more details)
Gold:
125 - 150
Energy Preference: None
Badges: Seekers do not earn badges for this character (more details).